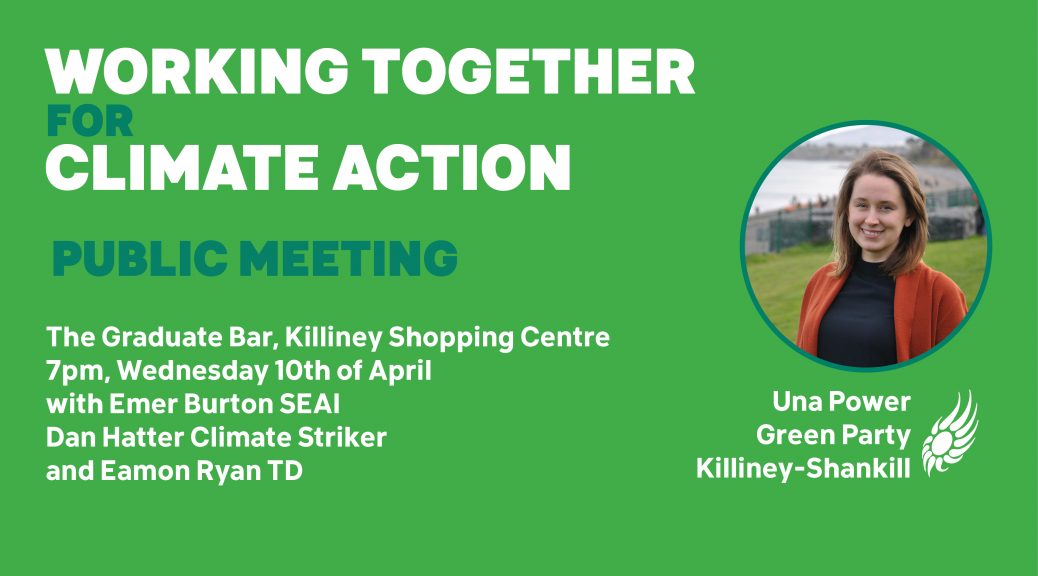 Public Meeting: Working Together for Climate Action
Public Meeting: Working Together for Climate Action
Whatever the problem, community is the solution! If we are to address the challenge of climate change, then we must work together!
Join me on at 7:30pm April 10th in The Graduate to share your ideas on how we as a community can work together to tackle climate change.
I've invited Eamon Ryan TD, Emer Burton and Dan Hatter to discuss the practical & community actions we can take to effectively tackle climate change.
Eamon Ryan TD
Eamon is a TD for Dublin Bay South and Leader of Green Party/Comhaontas Glas. He was the founding chairman of the Dublin Cycling Campaign, and ran two successful businesses, Irish Cycling Safaris and Belfield Bike Shop. He currently sits on the Oireachtas Communications Committee and the Joint Oireachtas Committee on Climate Action.
Emer Burton SEAI
Emer is Programme Manager for Home Energy Grants with Sustainable Energy Authority of Ireland (SEAI). 25% of carbon emissions come from Irish homes. SEAI's role is to incentivise & support homeowners to make their homes more energy efficient and to move towards renewables like heat pumps and solar.
Dan Hatter Environmental Activist
Dan is an environmental activist and educator from Co. Wicklow. He was a leader in the creation of Ireland's first plastic free campus and is a three time Young Environmentalist Award winner. More recently Dan has been involved in the Climate Strikes movement, calling on the Government to take decisive climate action.